Neotech marken – NKH16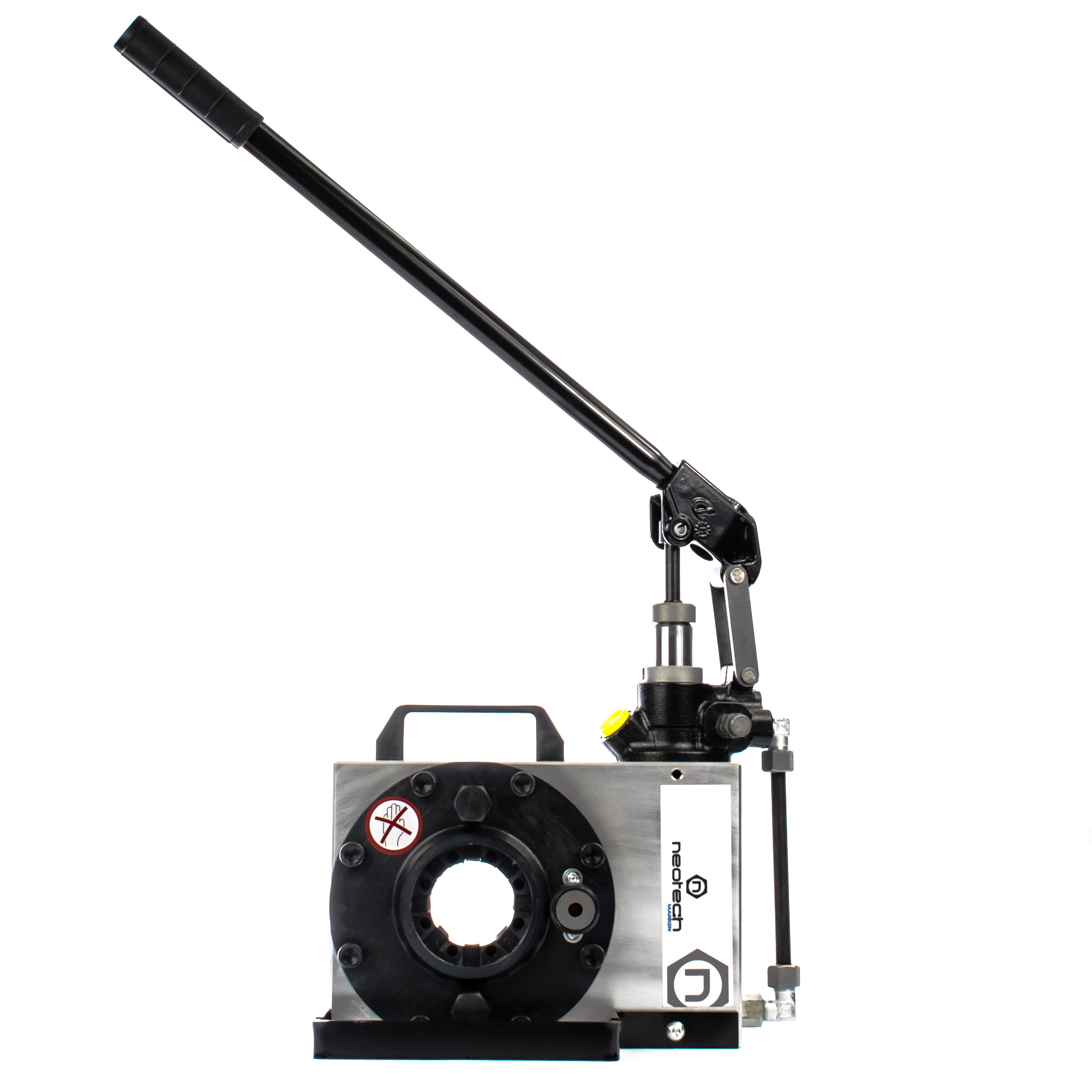 Portable Hand Hose Crimping Machine – Max hose size 1'' (DN25, -16)
Light portable hand crimper for on-site hose repairs.
The NKH16 crimper is the ideal tool for ON-SITE hydraulic hose repair jobs.
Typically used in agriculture, forestry, road works either loaded at the back of the mobile van or in a workshop as the emergency hose repair tool.
The machine is equipped with a resistant and robust 350 bar, and a simple adjustment vernier.
The double speed hand pump limits the number of pump strokes needed to achieve a crimp.
The end of the crimp is indicated thanks to a colored rod coming out of the vernier when the desired crimp OD is reached.
The head of the machine is also internally protected against debris or dust that could damage the inside of the cilinder and the seals.
Light Weight 28 kgs
Robust technology
Compact and balanced weight easy to use
Technical Specifications
Capacity For hydraulic hose crimping and intermittent use:
2-SN 1'' (DN25; -16)
4-SP 1/2" (DN13; -10)
Limit for assembly with 2 x 90° elbows : max.. 1/2" (DN13)
Hand Pump: Double Speed Pump with handle, delivered with oil HV32  — > Max. 350 bar
Radial Crimp force: 80 tons
Die opening: Ø Die. + 20mm
Opening without dies: 59mm
Length of master die shoe: 56mm
Dimensions of machine: Width : 300mm Depth : 220mm Height : 400mm
Available die sizes (mm): Ø 6,10,12,15*,18*,21*,24*,27*,30* [Master dies are used as Die N°39 to crimp 1" hoses]
*Sets of dies included in standard Pack 6 sets Dimensions of machine
Net weight (with oil, without dies): 28 kgs